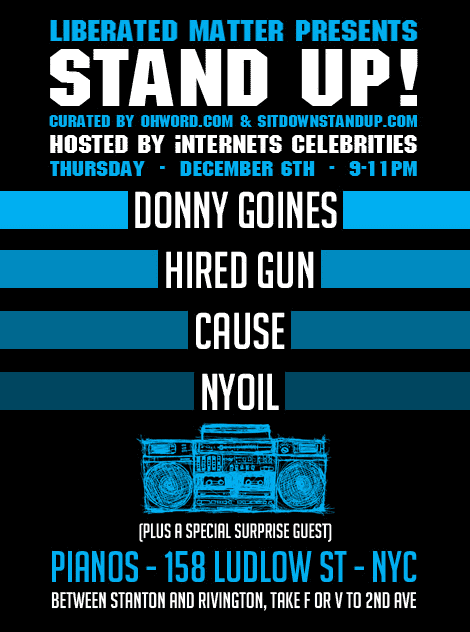 We're super-excited to announce that we'll be hosting a hip-hop concert called Stand Up! at Pianos in NYC on Thursday December 6:
DOWNLOAD Donny Goines – Am I Dreaming (MP3)
DOWNLOAD Cause – Ayo Technology (Remix) (MP3)
DOWNLOAD NYOIL – Free The Jena 6 (MP3)
STREAM Hired Gun – The Village (MySpace)
SitDownStandUp has banded together with OhWord to curate a great night of Hip Hop on December 6th called Stand Up!. It will be hosted by Rafi Kam and Dallas Penn, together known as the Internets Celebrities. It's all presented by Liberated Matter and features four of our favorite underground artists that we think deserve some extra attention. Each artist will perform a solo set followed in the end by a big posse cut with all four artists PLUS our special secret guest. The special guest will then close out the night with a set. Get your tickets here now! All info below.
Liberated Matter Presents
Stand Up!
Curated by OhWord.com & SitDownStandUp.com
Hosted by Internets Celebrities
featuring Hired Gun, Donny Goines, NYOIL, Cause & one special surprise performer
Where: Pianos, 158 Ludlow St. NYC (directions)
When: Thursday December 6th, 9-11PM
Buy tix here
Flyer created by agent b