When we finish a new movie, it has become a minor tradition that Dallas very graciously buys Raf and I new kicks. To wit: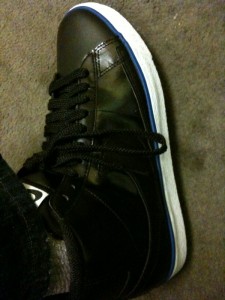 I'm rocking them today as a final testament to the completion of Stadium Status which we uploaded to Vimeo about 9 days ago – on the heels (see what I did there?) of a fantastic week for the ICs. You may have seen some of the highlight moments but just to contextualize the rollout of Stadium Status, here's a few other things that went down around the same time:
1) We sneak previewed (aka unofficially world premiered) Stadium Status along with 4 of our older movies (Bodega, GBM, Cereal is Dope and Checkmate) at the Brooklyn Public Library. Here's us onstage doing a little q&a: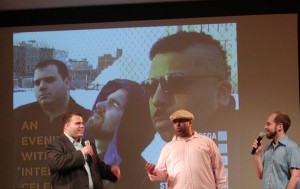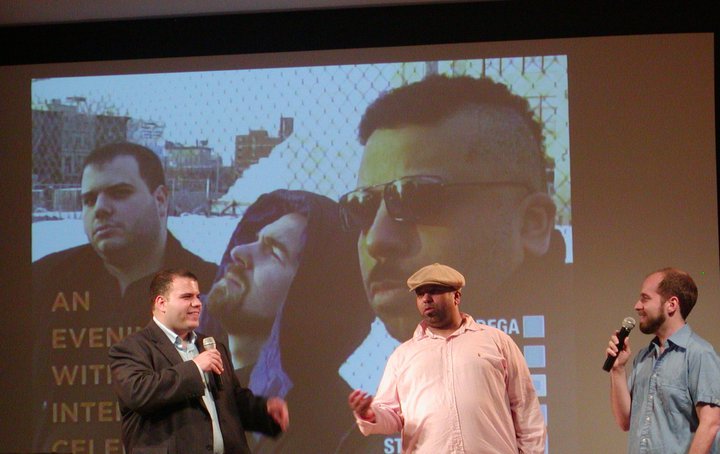 I've said it before but it's worth repeating: If you make movies for the internet, you really should show them on the bigscreen sometimes, especially with an audience. Watching your work with other people is such an informative experience. It's also good for the soul if you've spent a lot of time isolated in your lab, editing your work. A vacuum is good for certain objective decisions but pacing and jokes hitting are best considered with a group watching (and you secretly watching the group through various doors in the auditorium).
Anyway, it was crazy fun to show at the Brooklyn Public Library. Great theater with a nice screen and intimate audience/performer set-up. It felt like school assembly – but the good kind with the cartoons on the rainy days. And speaking of school, we had a lot of surprise friends from all over the timescape show up to the screening. It filled my heart with glee. Especially, because most peeps stayed and closed the bar with us at the after party. Dope!
2) That same day as the screening, we got the best press of our young video essay making lives. New York Times. Bong! Shouts to the author David Gonzalez for coming out to meet us and writing a really nice piece that finally legitimized all of us in the eyes of our mothers. And the photographer, Librado Romero who made us look like professionals (note the scripts in our hands).
3) From the Times article, we landed on the radar of MSNBC who called to inquire about our availability for an interview on the Dylan Ratigan show. But before we could even click the wikipedia link for more info on who Dylan Ratigan was, we were told that we were actually going to be interviewed by a guest host, Elliot Spitzer, who you might remember from such road signs as "Welcome to New York State. Governor: Elliot Spitzer" He was super nice, seemed sincerely interested in Ghetto Big Macs, knew more about public funding for stadiums than we did and gracefully laced a single off a perfectly thrown Dallas Penn curveball. And after the lightning-fast 5 minute interview, he took a fun picture with us: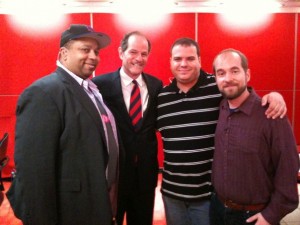 4) And then full circle we released Stadium Status onto the internets. We had intended to go up with it at youtube but a disagreement they're having with Warner Bros. got us redflagged for use of an unlicensed Warner Bros. movie theme in our movie. We're up at youtube now. But the bulk of our views have been at vimeo since we went up there first, not knowing when/if youtube would allow us through.
So there you go – a good goddamn week with the ICs. Thanks for rolling with us. I'm looking forward to scuffing these nikes on the next location, next movie, near future!