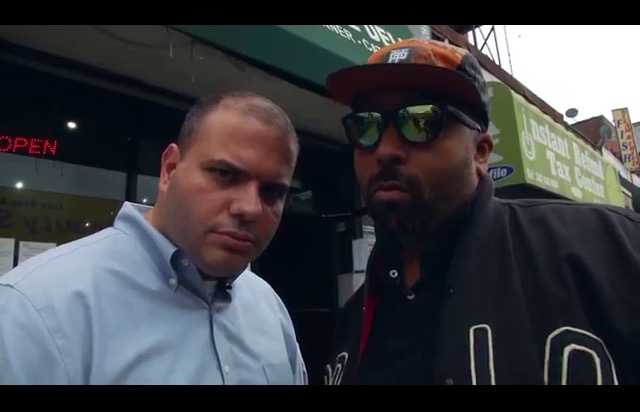 Last year we brought forth a new concept called Food Warriors, where we would ride the A train looking for the people of NYC to lead us to the best place to eat in their neighborhood. We wanted to visit some very different areas of the city, pay tribute to the epic spatial and historic scope of the A train line, and try out a lot of new food. This would also be a way for us to have a manageable plan we could stick to for more frequent video output than we'd had in the past. We dropped four videos shot in late 2013 and then things got way too cold for us to shoot anymore so we had to hibernate for a while.
When we came back and started working on a new set of videos some things were different. First of all, we wanted to keep things more geographically coherent. We jumped around a lot in the first four episodes because we didn't really know how many of these things we'd be doing but now that we were in on the idea, we wanted to more adhere to the "chronology" of the train line. We'd start in Harlem and move to downtown Manhattan, eventually we added a sixth episode taking us out to Bed Stuy in Brooklyn because it gave us a stronger finish and book-ended nicely with the season's opening videos in Harlem.
The team we have working with us is so strong right now. Dallas and I are who you see on screen and Cas is doing the directing – those things remain from the day we started – but every member of the crew is crucial to the overall product. Jesse and Dan's camerawork provide the series' distinct look, Mark and Bryan's editing keep the storytelling tight, Bless-1's musical theme variations connect each video while still keeping the soundtrack fresh, Tod's sound mixing always bringing the presentation to the next level. We improved the overall workflow thanks to a serendipitous encounter on our 59th Street shoot. That's where we met Humu who suggested the Turkish restaurant for us and (because we all clicked instantly) became our field producer on the following three shoots (145th, 125th and Nostrand Ave).
This would not have been possible without the incredibly generous support of Mailchimp who sponsored the whole season and wowed us from day one by being so cool and easy to work with. Thanks for believing in us and helping us produce this series!
Here's a playlist of all ten Food Warriors videos (from both seasons) in order of train station stop. Feel free to share this far and wide.